Oct, 05, 2014
Comments Off

on We All Have Scars
God created us with a body, soul, and a spirit (1 Thessalonians 5:22-23). All three areas can carry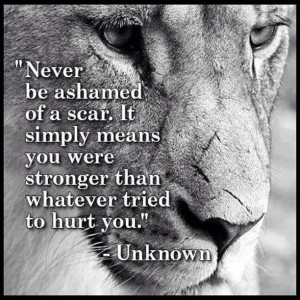 the scars of life.
Body (Physical) scars are visible and difficult to hide, like the circular indention just below my right knee. At 51 years old, I can look at this scar, think back, and smile. You see, it reminds me of a time just out of High School, when Cindy (my wife) and I were dating. An adventurous night of Bull Riding at Loretta Lynn's ranch and a quick trip to the hospital left me this lifelong memorial to a young mans impetuous desire to impress his girl!
Soul (emotional) scars are usually invisible to the casual observer. But many times, those who know and love us can see we are hurting. They just don't know why. From a broken heart to a life failure that makes us question our value in life, we all experience these hurts at some point in our lives. If we are lucky, we have one or two close friends to share these hurts with.
I had a couple of close friends who betrayed me and it shook my family to it's core. Through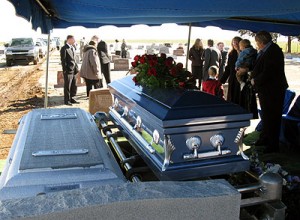 Christ, I was able to forgive them. The scar on my soul remains, but the memory no longer brings a feeling of helplessness.
Spirit (Psychological) Scars are the wounds we carry deep, deep within us. Wounds so painful, so dark, we sometimes cannot even bring ourselves to admit they exist. These are tragedies we rarely, if ever, share with anyone. I remember standing beside my father's casket, when Cindy gasped through her tears and whispered, "they cut him." Barely visible beneath his hairline was the freshly sutured scar that circled around behind his head. Left behind by the medical examiner's scalpel. Within my mind's eye, over two decades later, that scar is still visible today.
As long as there is a God in heaven, there is hope.
After his resurrection, Jesus was unrecognizable at first to his disciples. His body, even his outward appearance, was transformed, but He chose to keep the body (physical) scars from the cross of Calvary. In the gospel of John chapter 20, verses 25-28, we get a glimpse into why Jesus chose to keep his scars.
"The other disciples therefore said to him, 'We have seen the Lord.' So he (Thomas) said to them, 'unless I see in His hands the print of the nails, and put my finger into the print of the nails, and put my hand into His side, I will not believe.' And after eight days His disciples were again inside, and Thomas with them. Jesus came, the doors being shut, and stood in the midst, and said, 'Peace to you!' Then He said to Thomas, 'Reach your finger here, and look into My hands; and reach you hand here, and put it into My side. Do not be unbelieving, but believing.' And Thomas said to Him, 'My Lord and my God!'"
Scars of Honor
Jesus kept His scars because they are now—scars of honor! Evidence of the battle fought and the price paid for the redemption of the world. He gives us this same opportunity. We have the right to be healed because 'He was wounded for our transgressions, bruised for our iniquities, the chastisement for our peace was upon Him. And by His stripes, we are healed" (Isaiah 53:5).
How do we transform the wounds of life into Scars of Honor? Seek out a Biblical counselor to help you begin this journey today.
David R. Donaldson, Ph.D.